Press clipping that
saves time
Monitoring and reports in one app and only one e-mail. No need for endless spreadsheets, a large number of e-mails each day or endless browsing through news.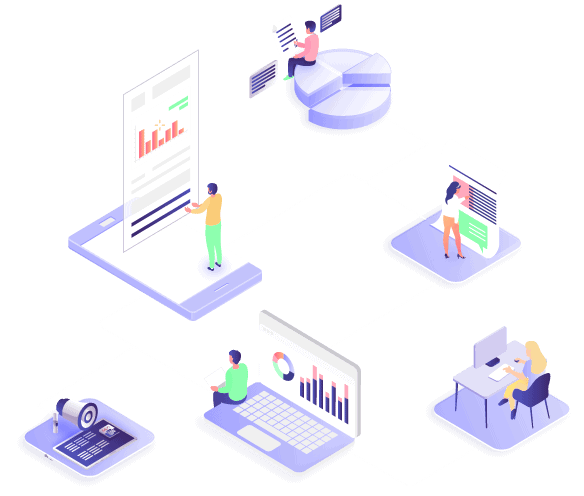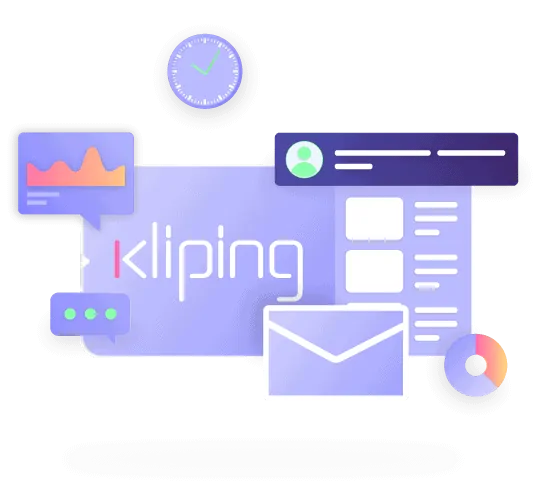 Because we enable intuitive time-saving press clipping, monitoring and reporting technology. We offer a partnership relationship and customer support that responds to your request within 30 minutes.
A comprehensive monitoring package for easy and quick insight into media reports.
Here are just some of the advantages of the Kliping monitoring package:
• Searching the archive by any keyword
• Morning reports in just one e-mail
• Creating reports in PDF and Excel is just one click away
• SMS and e-mail alarm for negative media reports
• Editorials – concise daily reports that save up to 30 minutes every day*
Spend a minimal amount of time getting to know about your media activities – on the go or at the office.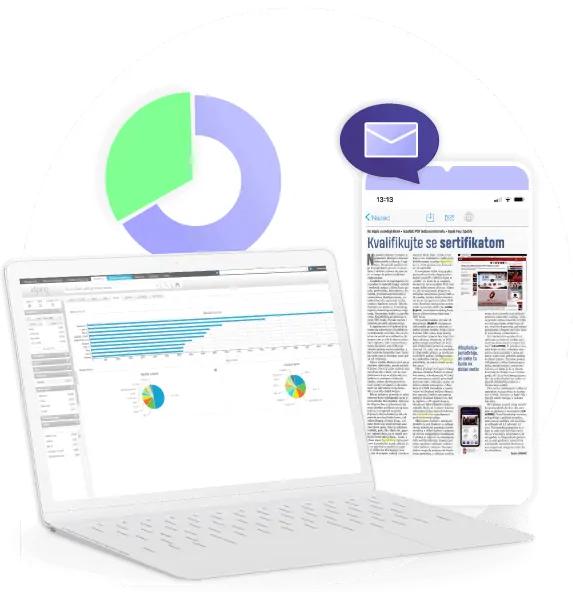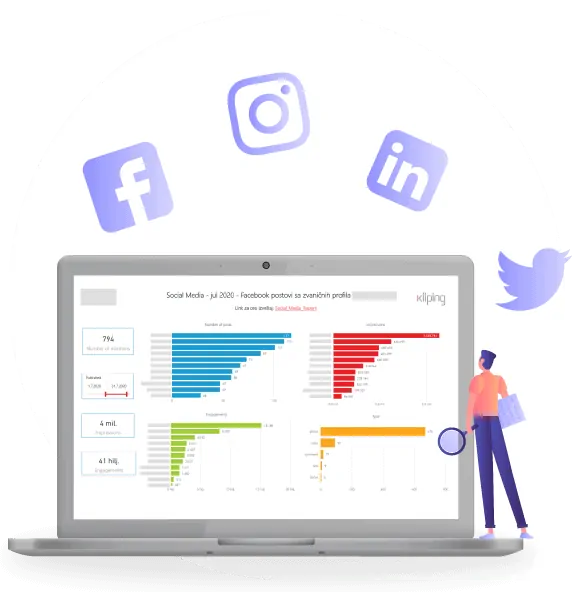 Social network monitoring
Monitoring all social networks, relevant blogs and forums, as well as the most read portals in Serbia and the region 24/7/365. Don't miss anything important:
Find out how your brand is perceived online
Identify the potential needs of your customers
Track the activities of your competition
Find adequate influencers for your brand
Discover new trends on social networks in time
Social media monitoring helps PR and marketing professionals to monitor their brands on social media in real time, to obtain timely,
filtered and relevant information
and thus make the best decisions for their future online appearance.
Detailed analysis of your media presence
A large amount of data and statistical reports mean nothing if you cannot understand what they are showing. Our media content analysis department compiles a personalized report for you with clear KPIs, insights and interpretations. Find out in one place:
How often the media reports about you
Analysis of your position in relation to competitors
The media sentiment used to report on your activities
and many other metrics of your media presence.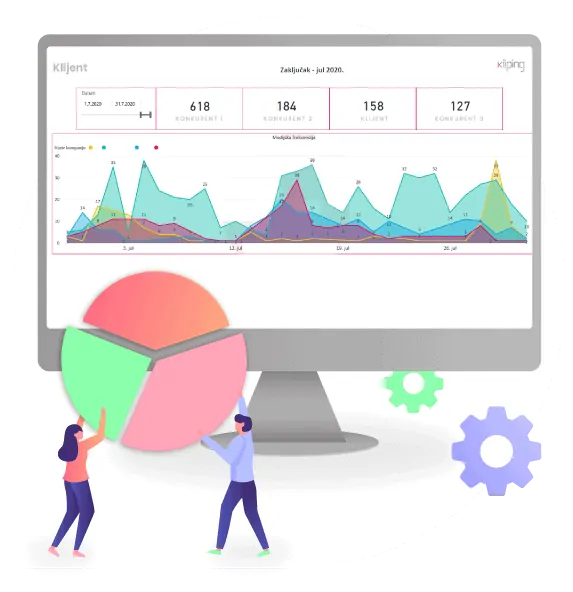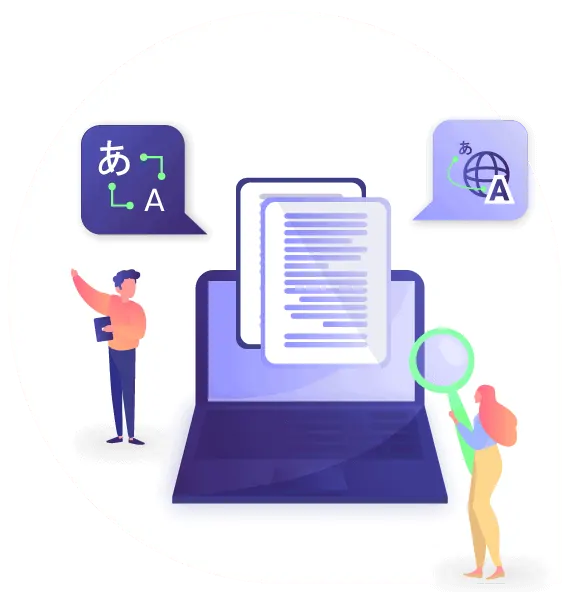 Translation of reports into and from foreign languages
Whether you're sending a report to headquarters abroad or presenting results to foreign partners, excellent translation is there to ensure good communication between all parties involved in PR and communications activities.
Since the market of the 21st century isn't limited to one country or language area, our team of professional translators (10+ languages) is at your disposal for quick and high-quality translations of:
media reports
editorials
special reports
documents
presentations
What our clients have said about us
Fast, up-to-date, flexible, ready to listen and understand the needs of the client, which results in clear and precise analyses that they use in everyday decision-making and creating a strategy for successful business. It is a real pleasure to work with them.
Kliping sounds like a very simple thing, done by some software based on given words. This is true, at least until you get to know Kliping's team, which provides additional value to their service. Kliping's clear and transparent methodology, as well as its dedicated team of analysts, enables companies to have a very clear and impartial view of their own and their competitors' communications on the market. Their insight is clear-cut and straightforward.
Kliping is our long-term and reliable partner, and also provides significant support in our business. Media monitoring, timely reporting and detailed analysis are part of our everyday business, and their mobile app ensures that we are up to date with all relevant news from the FMCG industry at any time and any place.
In addition to the standard service of monitoring media reports and advertising, which provides us with timely and objective insight into our media presence, the service of social media monitoring is of particular importance to us. With the help of the Metricom mobile app, we are kept informed in real time about all mentions, and the interactive analysis gives us a complete overview of all relevant reports on the markets of Serbia, Slovenia and Croatia.
The services of the agency Kliping, a long-term partner of the American Chamber of Commerce in the field of media monitoring, are an indispensable and highly important tool for our daily communication and media activities. In addition to timely monitoring of national media and comprehensive monitoring of local media, the agency Kliping constantly works on improving technological solutions and its services. Last but not least, the 24-hour availability of its client service makes Kliping our true partner, and not just the provider of an extremely important service for us.
The EU Delegation to Serbia has been the client of the Kliping agency for several years. The reports provided by Kliping were accurate, timely and well drafted in correct English so it was also easy for us to have the media monitoring reports circulated to our headquarters without additional quality control from our side. The colleagues of Kliping were always friendly, professional, forthcoming and service minded. The agency quickly reacted to requests at short notice – even when the task had to be done at unusual working hours. The services of the agency will be an asset to any private business, NGO, Embassy, international organisation or government body or any other interested actor with an interest in Serbia and the region.
Kliping is the right team to support complete monitoring, not only of regular media outlets, but also of podcast formats and social networks, where it isn't easy to find a reliable partner. We support innovation and technological entrepreneurship and we are happy to share the same values with this young and energetic team in the field of constant improvement of work with clients, precisely through innovation and technological superiority. I must also mention their newsletter, which is a great source of information because it includes not only business and marketing, but also tech news, because technology is now part of all industries!
Nowadays, keeping track of the media is a must, but you also need to track and analyse in real time everything where your brand and company are mentioned. What is especially important to me in cooperation with Kliping is that they understand the process of digital transformation and are up-to-date with it. The services of monitoring and analysis of everything that is both offline and online provides comprehensive insight into work results, as well as opportunities for improving communication strategies and plans. All this is just one click away, on a computer or phone 24/7. Media analysis has never been easier and more comprehensive and Kliping analyses are of great importance to me when it comes to preparing strategies and communicating with clients with whom I cooperate. Kliping is a great team of people who follow trends and constantly work on improving their service and user experience. Having such a partner in business is of really great value, because you can be sure that you're getting a high-quality service that was created just for you and your needs by professionals and people who want you to achieve 100% of your potential.
Media monitoring and analysis are an extremely important and indispensable part of our everyday business, and Kliping, with its professional approach and efficiency, has been responding to the high demands of our agency for years. Reliability, dedication to work and clients are the common values that we share and that make our cooperation successful, while the amazing and always helpful team is the crown jewel of Kliping's business.
Cooperation with Kliping is extremely important in my business and the services provided by Kliping enable me to develop my communication strategy in the best direction. This is particularly obvious in the case of Airport City and the projection of AFI Serbia's image. The range of Kliping services, their reliability, monitoring of announcements and especially products/services in English and quick and reliable translations of media reports that truly are at an enviable level is what makes Kliping an integral part of our team.
Our mornings start with e-mails that arriving from the agency Kliping, and sometimes our evenings end that way, too. Our colleagues offer great support in our everyday work with clients, and during our long-term cooperation there have been many. They are always at our disposal and no matter how strange or demanding our requests may be, they always respond in a highly professional manner and in the shortest possible time. Very often, they went beyond the framework of established cooperation and were there when we needed them most. In addition to the reports we receive being accurate and clear, and their website highly practical and useful, the agency Kliping has made a big step forward and boosted functionality for everyone with the new forms they introduced, which were especially important during the state of emergency. They have shown that they can be innovative, as well as follow the needs of us and our clients in the right way. For all these reasons and many others, we feel our colleagues from the agency Kliping are part of our team. Just keep it up, and we'll be happy to read you while having our morning coffee.

Kliping is part of Newton Media group, a brand leader in the field of monitoring, which includes 20 companies in 9 countries.
By cooperating with us, you have the support of a stable international company with extensive experience in doing business across the globe.
We are also proud members of international media monitoring and analysis organisations – AMEC and FIBEP. Thanks to this, the service you receive is in line with the world's finest practices and the latest trends in the industry.