Monitor all social media, relevant blogs and forums, as well as the most read portals in Serbia and the region 24/7/365. Never miss anything important.
Find out how your brand is perceived online
Identify the potential needs of your customers
Track the activities of your competition
Find adequate influencers for your brand
Discover new trends on social networks in time
Social media monitoring helps PR and marketing professionals to monitor their brands on social media in real time, to obtain timely, filtered and relevant information and thus make the best decisions for their future online appearance.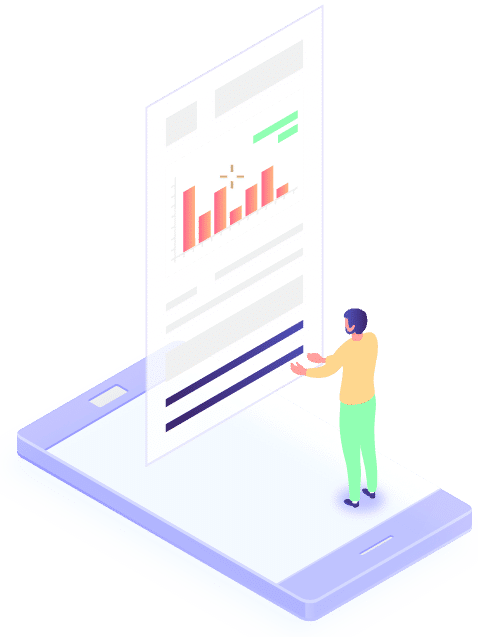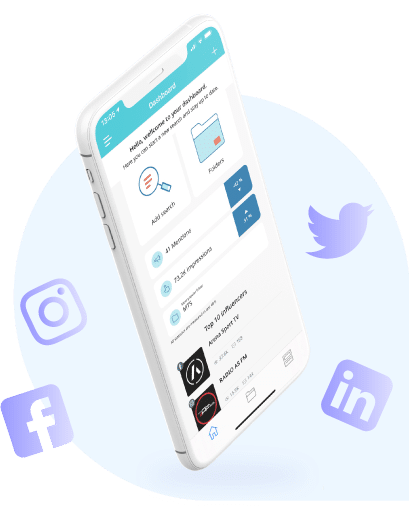 Metricom collects and analyzes over 1 million posts from social networks Facebook, Twitter, Instagram and Youtube, relevant forums and blogs, as well as comments on texts from the most visited internet portals in Serbia and the region.
With the help of artificial intelligence, it automatically classifies posts by keywords and agreed topics that are relevant to your business. This process is fully automatic and takes place in real time.
Choose monitoring
that suits you best
Basic social media monitoring
Ideal for starters, it will enable you to follow all important mentions on social networks and stay up to date.
Basic monitoring includes monitoring of all social networks, relevant blogs and forums, as well as the most visited portals in Serbia and the region, 24/7/365.
Basic monitoring allows you to:
assign keywords that interest you
gain insight into all posts on all social networks in real time
track them on the go through our mobile app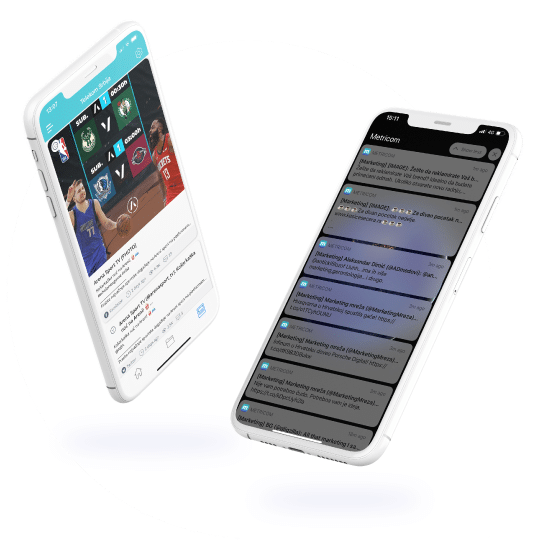 Advanced social media monitoring
More relevant data means better decisions.
We have recognised the need to provide an additional service in order for you to better monitor and improve your performance on social networks. In a sea of ​​irrelevant information, you will know at all times how the public percieves both your brand and your competition on social networks. You will also have a clear picture of how social media users comment on certain topics and phenomena in your industry.
The content is reviewed and filtered by our team of analysts, which carries out in-depth analysis of relevant reports. Advanced monitoring offers:
basic monitoring (access to the Metricom app)
analytics and interactive report
content filtering (highlighting relevant posts)
daily updates
analysis by analysts
the report contains the following parameters:
source of post (FB, TW, IN, YT, forum, blog…), author of post, number of impressions, number of interactions, list of the most prominent influencers, word cloud, list of all reports, sentiment (positive, negative, neutral), thematic focus (mentions of products, services, company representatives, CSR activities, promotional campaigns, etc.), and many othermetrics available in accordance with your choices and needs.
All this is provided in an interactive format within one report.
Additional specialised analysis for better online performance
Comparative profile analysis
After you track, analyze and improve your performance on social networks, we are ready to go even further with you so that you can be competitive in the market.
With additional analysis, carried out for you by our expert team, we compare the performance of certain profiles and posts of one brand in relation to another. These can be brands within your company, but we also offer comparison with your competition.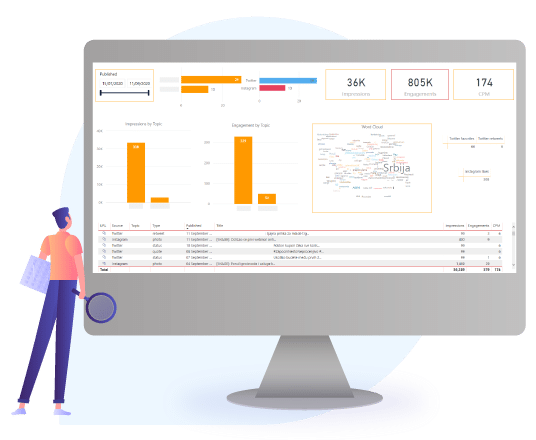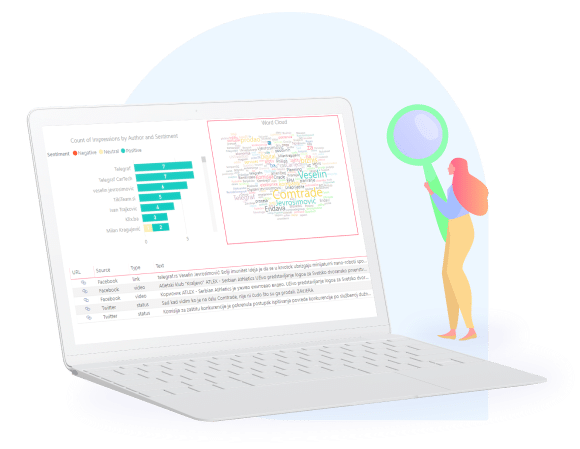 Discover micro-influencers before others
We live in an era of cooperation between brands and micro-influencers with access to narrow target groups. However, it isn't easy to identify a suitable influencer.
Our technology tracks the number of impressions as well as the number of interactions on specific posts and their authors.
Whether you need an influencer for rural tourism or motoring, we can offer recommendations for engaging influencers in specific areas.
Relevant information and meaningful conclusions
Nowadays, a huge amount of information is placed on the Internet, so it isn't easy to filter what is actually useful for your business. You probably often come across arguments, spins, long and pointless debates.
It's isn't easy to get the right information, relevant to your business, much less key conclusions about your target group.
Fortunately, technology gives you the possibility to extract only what is essential from all the noise.
The Kliping Metricom app collects over 1,000,000 online posts every day, and with the support of advanced technology and our expert team of analysts, you will get complete insight into online communication about your brand and industry.
Remember, 80% of mentions of your brand happen outside of your official profiles.
What our clients have said about us
In addition to the standard service of monitoring media reports and advertising, which provides us with timely and objective insight into our media presence, the service of social media monitoring is of particular importance to us. With the help of the Metricom mobile app, we are kept informed in real time about all mentions, and the interactive analysis gives us a complete overview of all relevant reports on the markets of Serbia, Slovenia and Croatia.
Kliping is the right team to support complete monitoring, not only of regular media outlets, but also of podcast formats and social networks, where it isn't easy to find a reliable partner. We support innovation and technological entrepreneurship and we are happy to share the same values with this young and energetic team in the field of constant improvement of work with clients, precisely through innovation and technological superiority. I must also mention their newsletter, which is a great source of information because it includes not only business and marketing, but also tech news, because technology is now part of all industries!