Detailed analysis of your media presence
Information is the currency of the 21st century. However, a large amount of data and statistical reports mean nothing if you cannot understand what they are showing.
With the help of our media analysis department and their expert interpretation of your media reports, you will be able to:
Identify the strengths and weaknesses of your communication activities
Objectively see the media position of your brand in relation to competitors
Detect relevant authors and media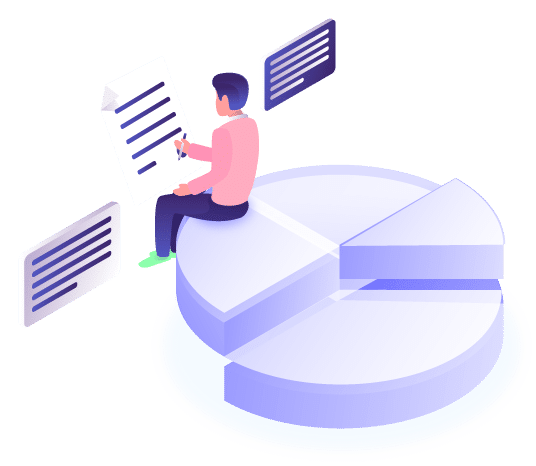 NO DIFFICULTIES IN INTERPRETATION
A compact, concise and concrete overview of data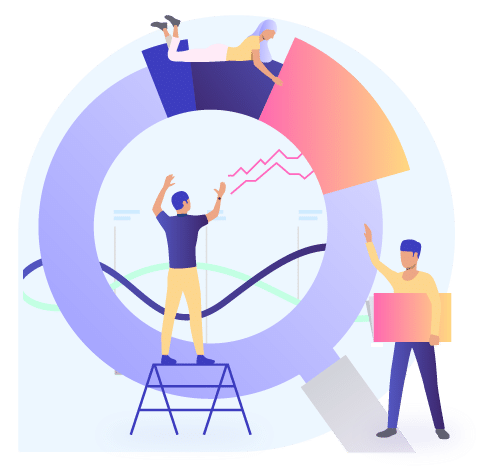 Any analysis you receive answers specific and relevant questions about your media presence. Our analysis covers press, television, radio, internet portals, and if necessary also blogs, social networks, podcasts and YouTube shows.
Your report will contain:
how often the media reports about you
which segment of your business is dominant in media reporting – corporate, CSR, brand…
the media sentiment used to report on your activities – positive, neutral or negative
the position your brand takes up in relation to competitors
the types of media you appear in
how much your topic/product was in the primary focus of the media
which journalists write about you most often
the ratio between marketing investment and achieved publicity
As a result, you will know the exact effect of your media activities and you will be able to plan your future communication strategy efficiently and based on relevant and objective information
Analysis in accordance with to your key indicators and metrics
Every analysis you receive is made specifically and exclusively for you and your brand, in accordance with KPIs and metrics defined in agreement with you at the beginning of our cooperation.
You will not be getting a commonplace analysis covering the entire sector in general, but a comprehensive analytical report tailored to your needs.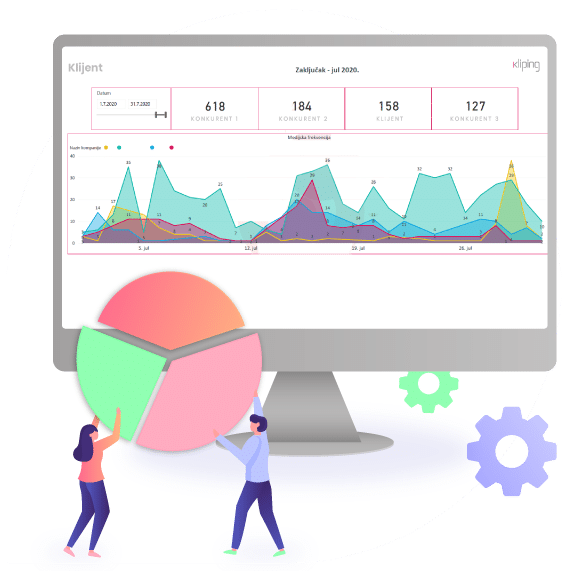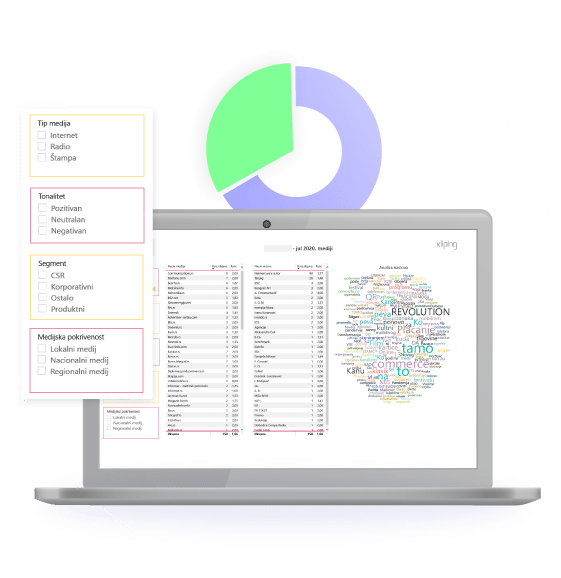 Aligned with your visual identity
Save the time needed to prepare presentations about your media activities.
Optional analytical reports are available in a branded format:
with your corporate colours
with your brand fonts
with your logo

Kliping is part of Newton Media Group, a brand leader in the field of monitoring, which consists of 20 companies across 9 countries.
By cooperating with us, you have the support of a stable international company with extensive experience in doing business across the globe.
We are also proud members of international media monitoring and analysis organisations – AMEC  and FIBEP. Thanks to this, the service you receive is in line with the world's finest practices and the latest trends in the industry.
What our clients have said about us
Fast, up-to-date, flexible, ready to listen and understand the needs of the client, which results in clear and precise analyses that they use in everyday decision-making and creating a strategy for successful business. It is a real pleasure to work with them.
Kliping sounds like a very simple thing, done by some software based on given words. This is true, at least until you get to know Kliping's team, which provides additional value to their service. Kliping's clear and transparent methodology, as well as its dedicated team of analysts, enables companies to have a very clear and impartial view of their own and their competitors' communications on the market. Their insight is clear-cut and straightforward.
Kliping is our long-term and reliable partner, and also provides significant support in our business. Media monitoring, timely reporting and detailed analysis are part of our everyday business, and their mobile app ensures that we are up to date with all relevant news from the FMCG industry at any time and any place.
In addition to the standard service of monitoring media reports and advertising, which provides us with timely and objective insight into our media presence, the service of social media monitoring is of particular importance to us. With the help of the Metricom mobile app, we are kept informed in real time about all mentions, and the interactive analysis gives us a complete overview of all relevant reports on the markets of Serbia, Slovenia and Croatia.
Nowadays, keeping track of the media is a must, but you also need to track and analyse in real time everything where your brand and company are mentioned. What is especially important to me in cooperation with Kliping is that they understand the process of digital transformation and are up-to-date with it. The services of monitoring and analysis of everything that is both offline and online provides comprehensive insight into work results, as well as opportunities for improving communication strategies and plans. All this is just one click away, on a computer or phone 24/7. Media analysis has never been easier and more comprehensive and Kliping analyses are of great importance to me when it comes to preparing strategies and communicating with clients with whom I cooperate. Kliping is a great team of people who follow trends and constantly work on improving their service and user experience. Having such a partner in business is of really great value, because you can be sure that you're getting a high-quality service that was created just for you and your needs by professionals and people who want you to achieve 100% of your potential.
Want to find out about other ways in which our team of media analysts can help your communications sector? Contact us and someone from our analysis department will be in touch.