We know how important time is as a resource. This is why we have created for you a comprehensive monitoring package consisting of 3 elements that reduce the time required for media monitoring:
KlipingMAP platform
Kliping mobile app
Concise daily reports via e-mail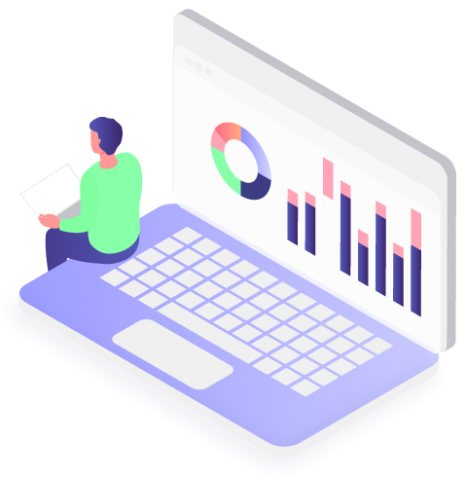 Given the growing popularity of podcasts and YouTube channels, we have added the monitoring of these channels to our basic monitoring service and are currently the ONLY ones to do so in the region.
Whether you're on the go or at your office computer, you'll have easy and quick insight into media reports from: online portals, social networks, print media, TV, radio, as well as podcasts and YouTube shows.
Never miss anything important.
Our intuitive KlipingMAP platform offers quick, clear and simple management of media reports in one place:
advanced search by any keyword with standard filtering options (by media type, monitoring topics, media, author)
marked and highlighted keywords for quicker and easier overview of reports
creating PDF and Excel reports from selected reports in just a few minutes
real-time statistical online analysis of media reports
Everything you need for quick media monitoring, without the need for any special technical skills. Put simply – it's adapted to all types of users.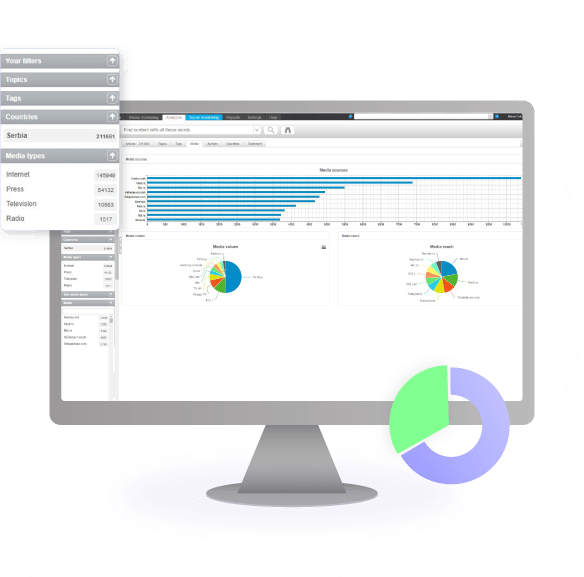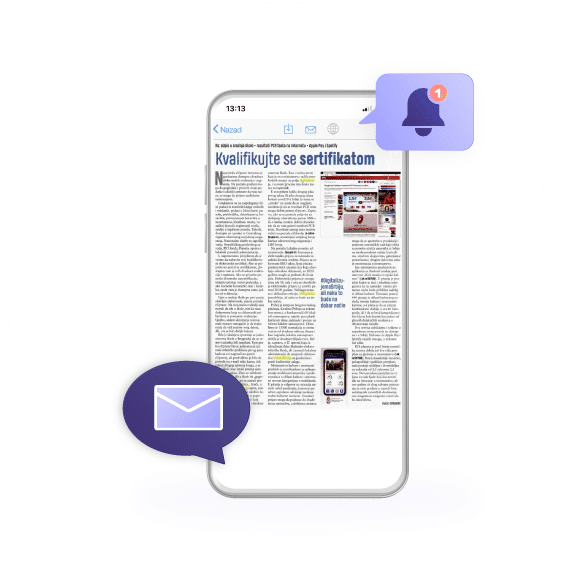 Brza reakcija u komunikacijama je od ključnog značaja, naročito u slučaju krize. 
Prompt response in communications is crucial, especially in the event of a crisis.
With the Kliping mobile app in Serbia, you can:
review relevant news and never miss anything important
filter posts by topic and media type
get real-time notifications about brand mentions
get concise reports on all publications – editorials
forward significant reports via e-mail in just a few clicks
get SMS and e-mail alarm notifications
be notified about negative reports
All this can be done on the go and in the shortest possible time.
All media outlets in your pocket, one click away.
No more bundles of e-mails with endless text.
As part of the monitoring package, you will get a daily report each morning:
in a single e-mail
with clearly highlighted keywords
with content overview
You will be provided with quick and simple information about all relevant media reports.
In a single e-mail, you will get all the information you need.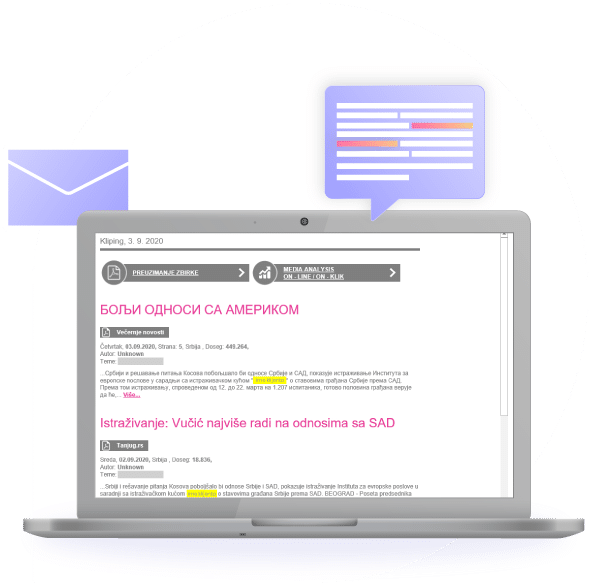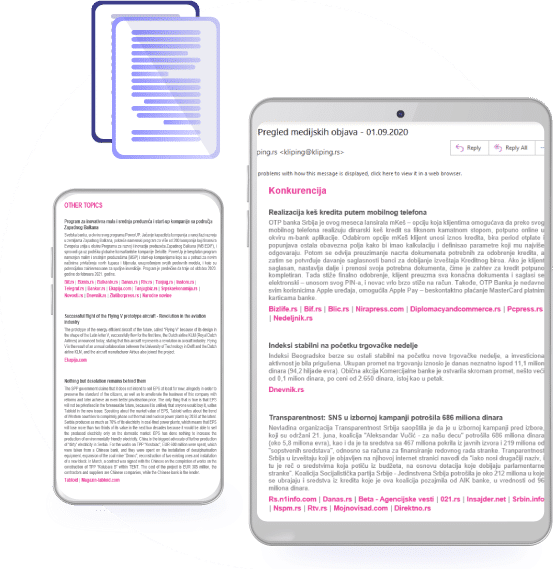 Upgrade basic Kliping Monitoring and save time
Daily review and analysis of reports take up time that could be spent on other relevant activities. Maybe it's time you considered the Editorial – a concise report containing all necessary information that makes it easier for you to read your press clipping.
Instead of a report with a list of all relevant posts that you would have to list through, editorials contain:
a summary of relevant news
a list of media outlets that reported the news
links to original reports for each media outlet
It doesn't matter if your press release was reported by 20 or 120 media outlets – your Daily Report will be concise and straightforward. Save yourself and your employees up to 30 minutes of reading reports every day.
Benefits of Kliping Monitoring
The entire package is designed for you to spend a minimal amount of time getting informed about your media activities.
In fact, you can save up to 30 minutes every day compared to your previous way of working.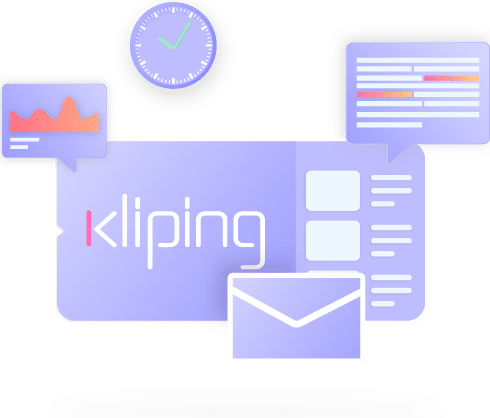 Šta su naši klijenti rekli o nama
Kliping je naš dugogodišnji i pouzdan partner, kao i značajna podrška u poslovanju. Monitoring medija, pravovremeno izveštavanje i detaljne analize deo su naše poslovne svakodnevice, a mobilna aplikacija pruža da u svakom trenutku i gde god da se nalazimo budemo u toku sa svim relevantnim vestima iz FMCG industrije.
Usluge agencije Kliping, dugogodišnjeg partnera Američke privredne komore na polju praćenja medija, predstavljaju neizostavan i veoma značajan alat za naše svakodnevne komunikacione i medijske aktivnosti. Pored pravovremenog praćenja nacionalnih medija i sveobuhvatnog monitoringa lokalnih medija, agencija Kliping radi na konstantnom unapređenju tehnoloških rešenja I poboljšanju svojih usluga. Ne manje važno, 24-očasovna dostupnost client service-a čine Kliping našim istinskim partnerom, a ne samo pružaocem, za nas veoma bitne usluge.
Praćenje i analiza medija su veoma važan i neizostavan deo našeg svakodnevnog poslovanja, a Kliping svojim profesionalnim pristupom i efikasnošću godinama unazad odgovara na visoke zahteve naše agencije. Upravo su pouzdanost, posvećenost poslu i klijentima zajedničke vrednosti koje delimo i koje našu saradnju čine uspešnom, dok je neverovatan i uvek predusretljiv tim kruna poslovanja Klipinga.